Storage and Nightentrance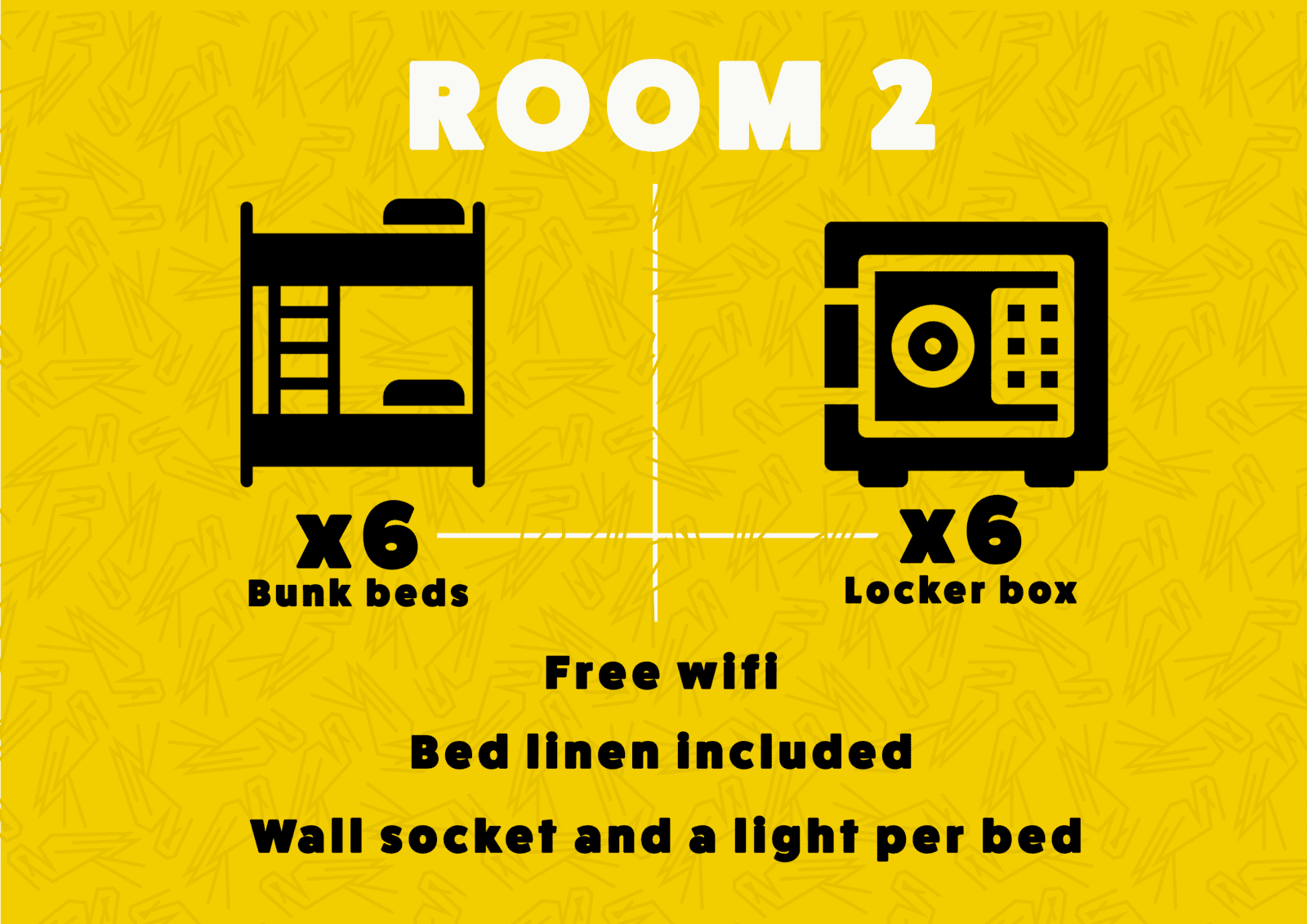 Our rooms are on the ground floor. There are no windows in the rooms. Are you a true backpacker and want to save some Euro's? Check out the video below to see our 15 bed dorm.
The 15 bed dorm has triple bunk beds. The same high quality mattresses, pillows, duvets and linen as the other rooms; just a bit more roommates to share the fun with! Also the cheapest option (and the biggest lockers!).
Check availability
here
.
Welcome to our two female-only dorms! Check out the video's to see what these dorms look like from the inside. You can bring your own lockpad to use for the lockers (30cm x 30cm) or you can get a lock at reception (10 EUR deposit or buy one for 5 EUR).
Does your bunkmate snore? No worries, earplugs are available at reception for 0.50 EUR!
Toilets and showers are outside of the dorms. Towels are for rent at reception (2 EUR). With your room key you also have acces to our night entrance and a WiFi password is on the inside of the door in your room! Our rooms are on the ground floor: no stairs! There are no windows in the rooms, so you can sleep in without being woken up by the sun. That's why we made our check-out time at midday (12pm)!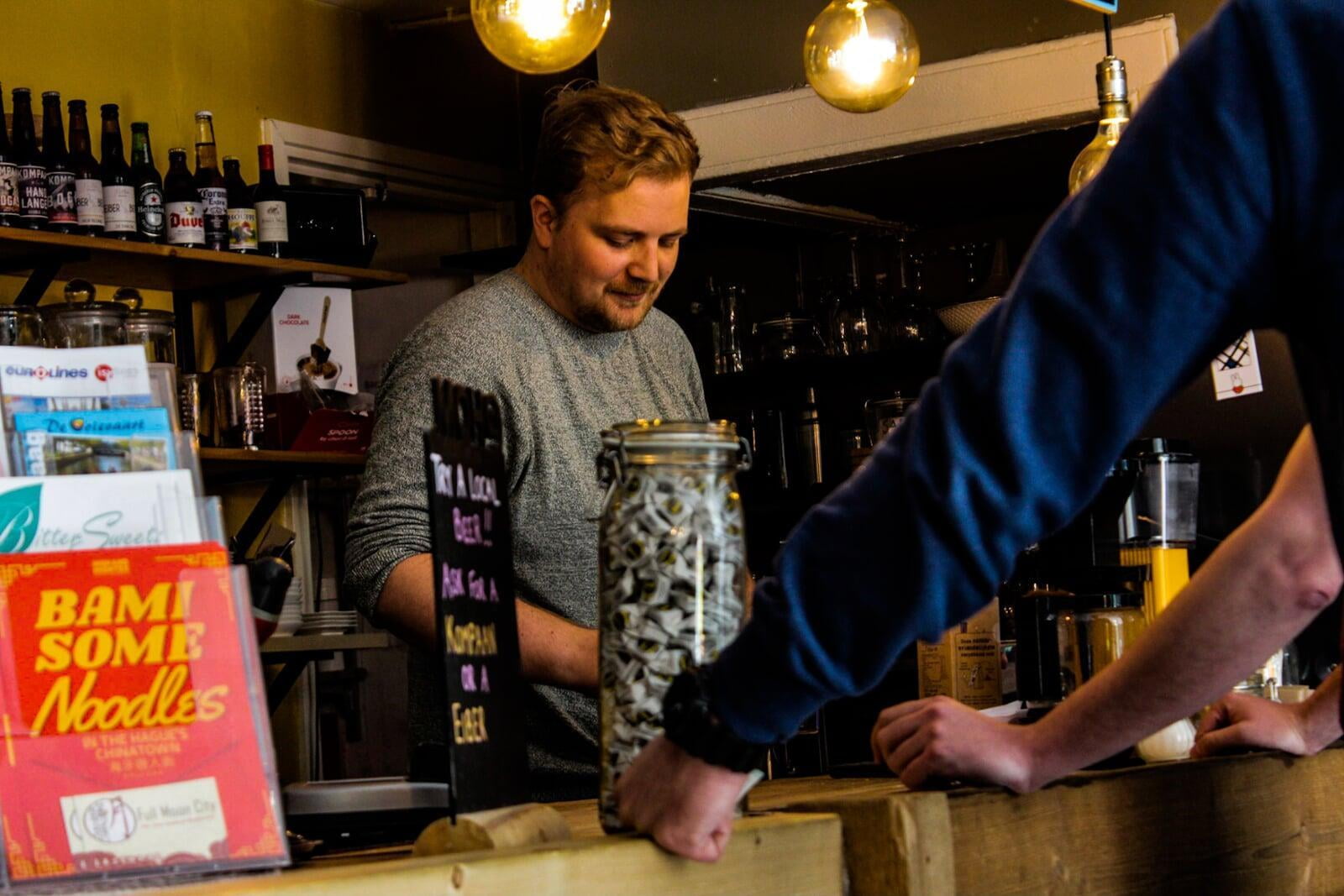 The bar
You'll arrive straight into the reception and common space of The Golden Stork from Bierkade, which means you'll be overlooking one of the prettiest canals in The Hague. There are plenty of wall sockets to connect your devices to, there is a lounge area to relax in and tables to eat at.
The bar itself also has a story to tell. The wood used to be part of the floor at the back of the building. It took a lot of effort to pull the beams out, but the wood was of such good quality that we decided to recycle it and make a bar out of it. The result is a unique and characteristic piece.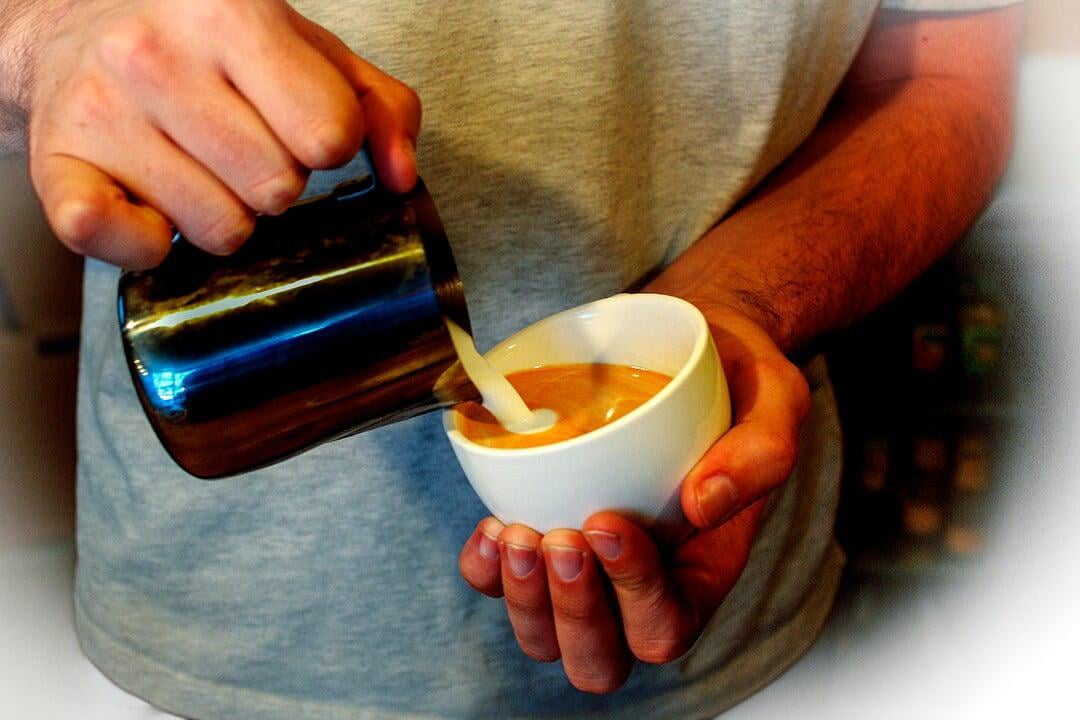 Breaky, coffee, beer...
We are a small, homely hostel. We have a nice bar, but no (space for a) kitchen. We are happy to heat up your food for you and provide hot water for your instant noodles or tea. You are free to use the cups, plates, bowls, cutlery, spices and napkins that are available in the common area. There is also fresh water you can help yourself to. We sell all kinds of lovely beers, for lovely prices! You are not allowed to use your own alcoholic beverages since this is a licenced bar but we can store them for you until you leave! We offer breakfast between 8 and 11am for 2 EUR -a yummie local filter coffee + a fresh croissant.
Behind the reception we have a fridge for your food: to make sure nothing gets accidentally taken out by other hungry backpackers, you label it and we put it in the fridge for you and hand it to you when you need it (between opening hours of reception)!
We like to keep the rooms fresh and clean for our guests, therefore eating and drinking is not allowed in the rooms (water is fine).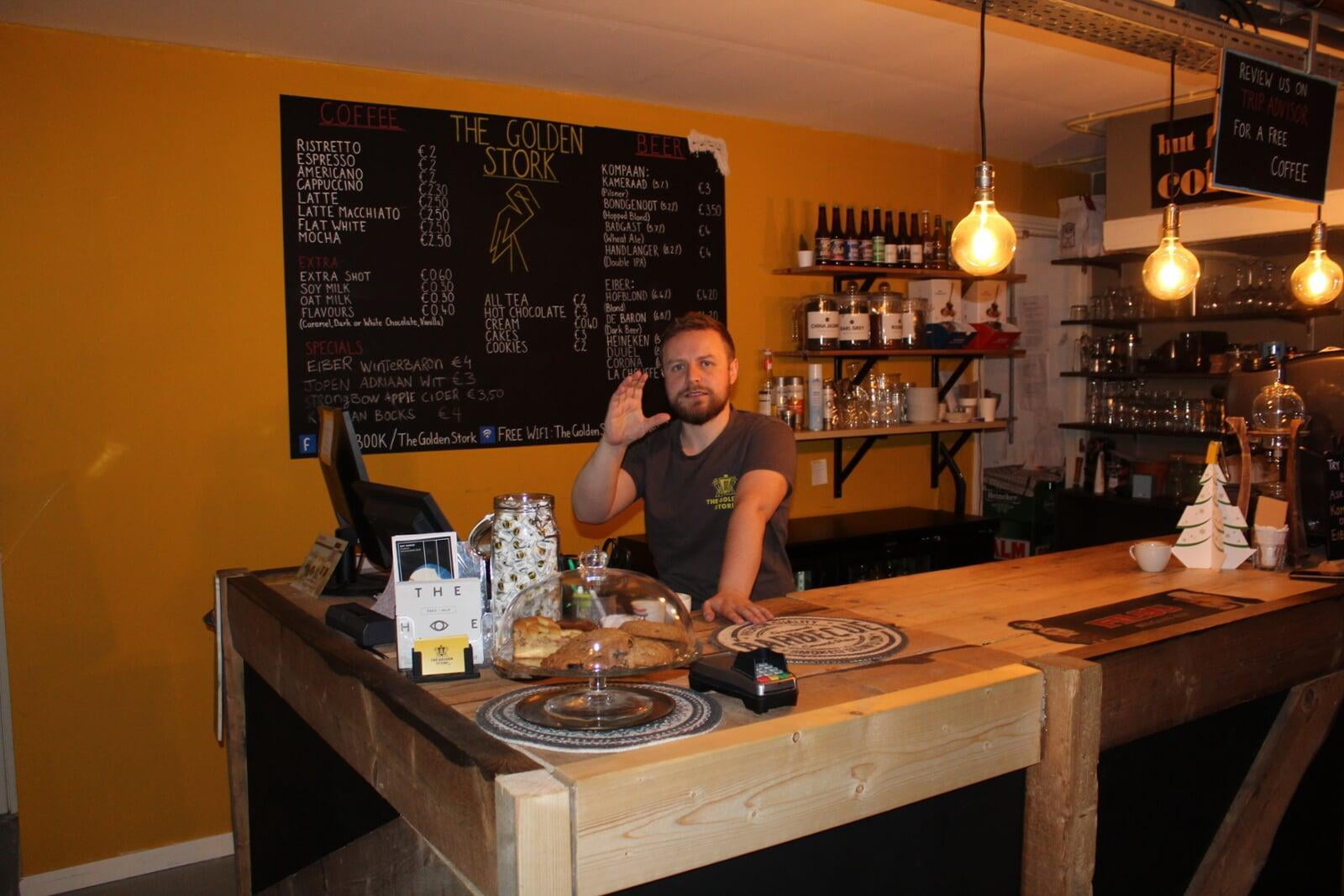 Reception
Reception is open from 8am until 11pm. Check in is from 3pm untill 11pm. For check in you need your passport/ID card or a drivers licence. Bookings can be made here. After you booked, you can start your check in online, check the confirmation email to see how it works! Our reception staff speaks English, some of us speak Dutch or another second language. We offer free city maps and are happy to help you!


Check out our house rules on our Book Now page.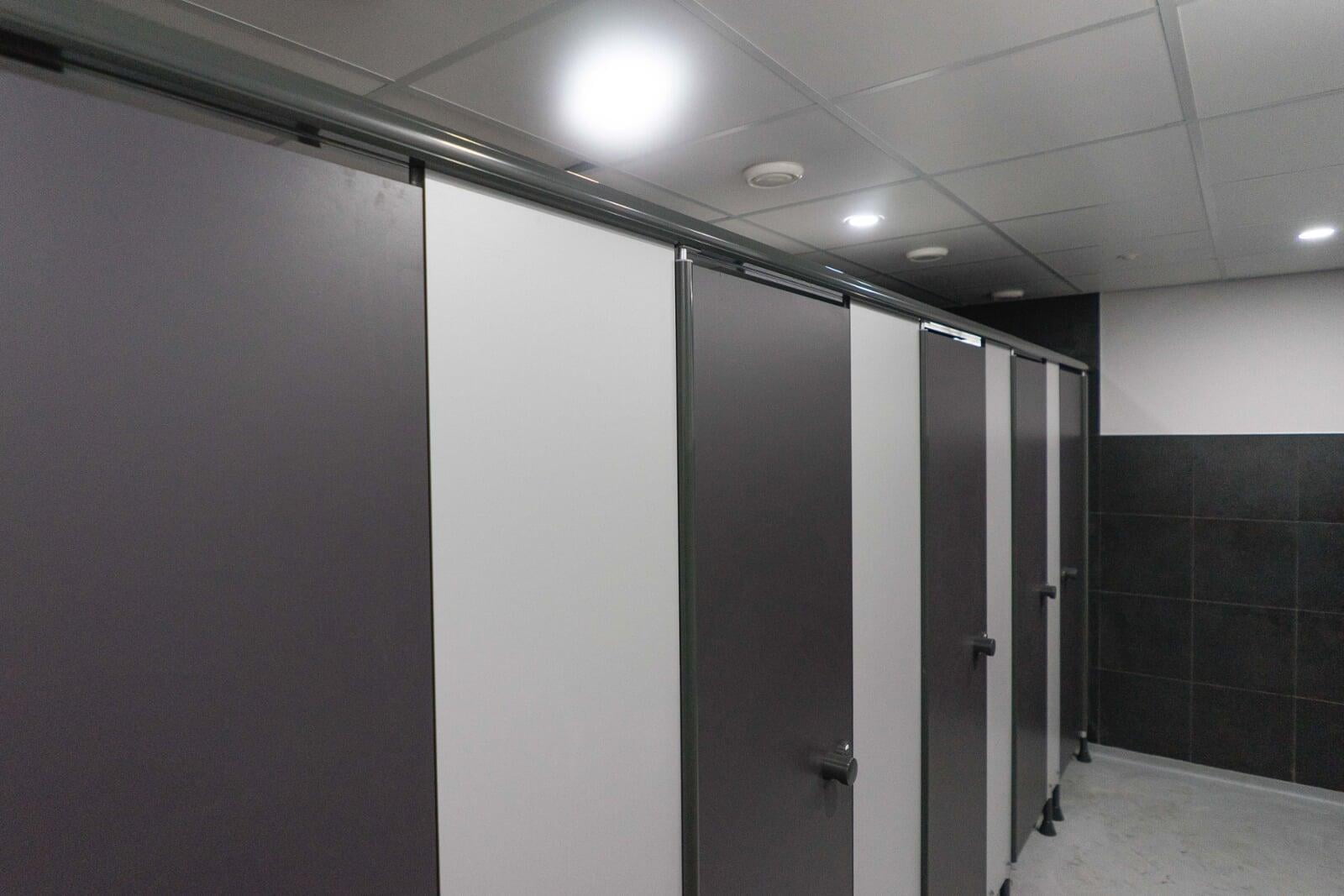 Bathroom & Toilets
The showers and toilets are outside of the rooms. After check out (noon) our cleaners will be cleaning all the facilities, so chances are you need to hold it in for a little while! We have power outlets in the bathroom as well as a separate stall for changing or shaving. Would you like to use a fresh towel? You can hire one at reception for 2 EUR. There is a hairdryer available at reception.


We don't have any laundry facilities but there is a self-service laundromat about 10min walk from here.
Storage and Nightentrance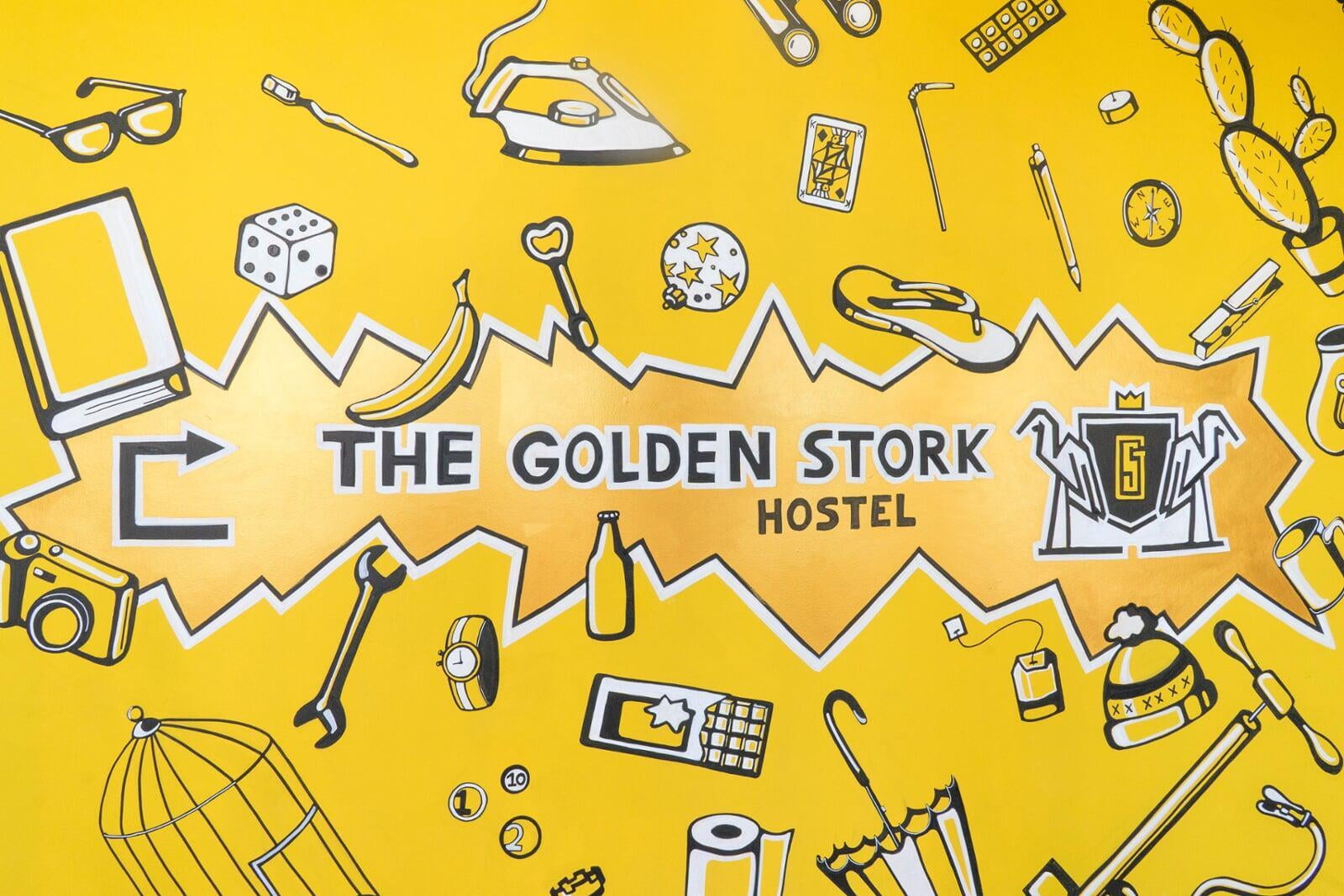 Coming back late
During your stay (before check in from 8 am until after check out until 10:30 pm) you are free to use our luggage storage. Anything stored in the hostel is at your own risk, however this storage is always locked so perfect to leave your heavy luggage for a couple or hours as you explore the city!
After you have completed your check in at our reception, you will get a key to your room, which also opens the night entrance. You'll find the night entrance around the corner from out main entrance. If you want to check out before 8am, please speak to our reception staff the night prior.