What is a hostel explained
We are getting a lot of questions about what a Hostel actually is and what it makes that a Hostel is different from, for example, a hotel. And since we are a Hostel as well, we wanted to explain a bit more about 'the Hostel life'. So why not put it in a blogpost for you guys, right?
What is a hostel?
According to Wikipedia, a hostel is 'a youth Hostel and a cheap overnight accommodation, affiliated with Hostelling International or another cheap overnight accommodation'.
How we experience the life in a Hostel, different from the explanation Wikipedia gives. We get all different kinds of people, from young to elder and coming from all around the globe. !
6 tips for when you are going to stay in a hostel for the first time:
1. Pack your own towel from home: in most hostels there are no towels included.
2. Always check if there is a free breakfast at the hostel! And if it's free or cheap: don't expect too much. Oh, and one more thing: don't get up too late; there's a change everything is gone by the time you get up!
3. Do you have a 'moment of loneliness'? Go and chill in the common area for a bit! The chances are great that you will meat new, awesome people there!
4. Ask the receptionist(s) if they have some tips about the city you're in. Usually they have a free city map (yeay!) and most of the time the people who work in the Hostel also did some awesome stuff in the city and/or know the city like the back of their hand!
5. Bring a little lock when packing your bags (TSA is the best option)! This can be very useful if there are lockers in the room you're gonna sleep in!
6. Check if the hostel has a kitchen, fridge, microwave, etc. If you really want to cook, it's nice to know beforehand if the hostel you want to sleep in has a kitchen!
How big are the dorms in a Hostel?
This really depends on how big the Hostel is you want to go. Most Hostels have 4,6,8,10,12 and 16-bed dorms. Of course the prices will also be different per room (the more people in the room, the cheaper your stay).

Maybe it sounds heavy to stay in a room with that many people, and don't get us wrong: it can be. But it can also be a lot of fun! You meet a lot of new people and probably will have many different conversations!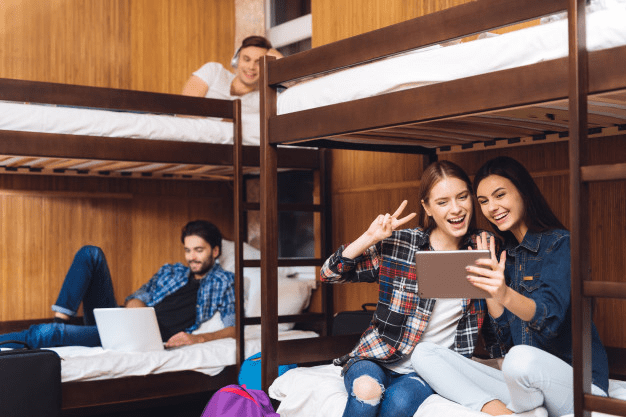 How do you find good hostels to sleep in?
You can do a search on google about the hostels that are in the city you want to go, and after that, look for some reviews to make sure you're choosing the hostel where you'll feel at home! You can also check booking.com, hostelworld.com and expedia.com.
Also make sure you check the reviews, the website of the hostel and maybe even the Social Media accounts (if they have one) before you book. In that way, you'll get a good first impression!
Of course you can always send us a email, private message or you can give us a call if you want to know more about our hostel.
We hope you liked reading this post and it would be awesome if you can let us know what you think of this post (or if you have any other ideas of course)!