It can be hard to find housing in The Hague for international students. Especially if you don't speak Dutch! But I have 5 tips that will help you navigate the housing market and find a place so you can stay at Hostel Golden Stork, which has very affordable short stays starting from 400 euros per month.
If you don't plan ahead of time, housing in The Hague may be quite costly! There is a continuing scarcity of low-cost student housing. So, if you come prepared, you'll be a wise individual.
If you're on a budget, know your limits. You may be able to locate a room for around 500 Euros if you agree to share a home with other students. The moment you want a place to call your own that will definitely raise up your price.
pro tip: Find another student with a similar budget and you will be able to find much nicer places!
Tip 2 - Join facebook groups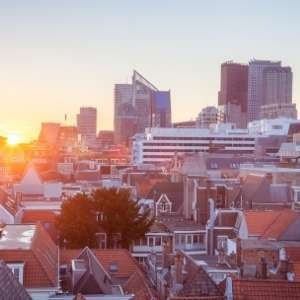 Tip 3 - Join different online platforms
Now you are prepared to attack your housing hunt! But where do you start? There are many platforms where real estate agencies are offering their houses. We made a small list for you with the best ones to start with.
This can be a wonderful assistance to have. It's also good information that many of these firms request a sign-up fee, which should be your last option. Because with the creation of a strong network around you, you should be able to locate a position without the need for that sign-up fee.
This is the platform that actually gathers all the available housing in The Hague. You would be able to find the majority of the available houses in The Hague over here.
But be aware, this platform only gathers information that is provided by the real estate agencies. So for the last minute deals you better of on different platforms
This firm specializes in student housing in The Hague. They have several well-located campuses in the city center and around the university towns. They also have a close relationship with the institutions.

Tip 4 - Come a couple weeks before
How do you get the best possible house? Do some research in advance of your arrival to The Hague. Finding a home after months of study may be frustrating if you pick the incorrect location.

When you decide to visit, see if any local hostels have special student discounts! For example, The Golden Stork offers cheap lodgings starting at 400 euro monthly (off-season pricing)!

Tip 5 - Read about the bureaucracy behind it
To be effective in the Netherlands, you must first accept its bureaucracy. To register oneself after locating a home, you'll need a housing contract.
In order to sign a contract most of the times the real estate agency will ask for a so called BSN or RNI.
BSN is for when you are staying more then 4 months in The Hague, RNI is for when you stay less as 4 months.
For more information check out the website of the municipality: Here
Pro-tip: Before you go, make sure you request an appointment. There is a long waiting period for these appointments, so be sure to schedule one ahead of time.
Conclusion about student housing in The Hague
As housing is the biggest expense for international students, it's important to do your research and find a house that will suit all of your needs. Luckily there are many housing platforms available with student housing in The Hague especially! But don't forget about local hostels as well--they might have special deals on short-term lodgings just for you. To get started finding houses in The Hague, check out our 5 tips above or head over to Hostel Golden Stork's website where they offer affordable housing starting from 400 euro monthly. We hope these ideas help make your search easier and more enjoyable!