DISCOVER THE CITY WITH US!
DISCOVER THE CITY WITH US!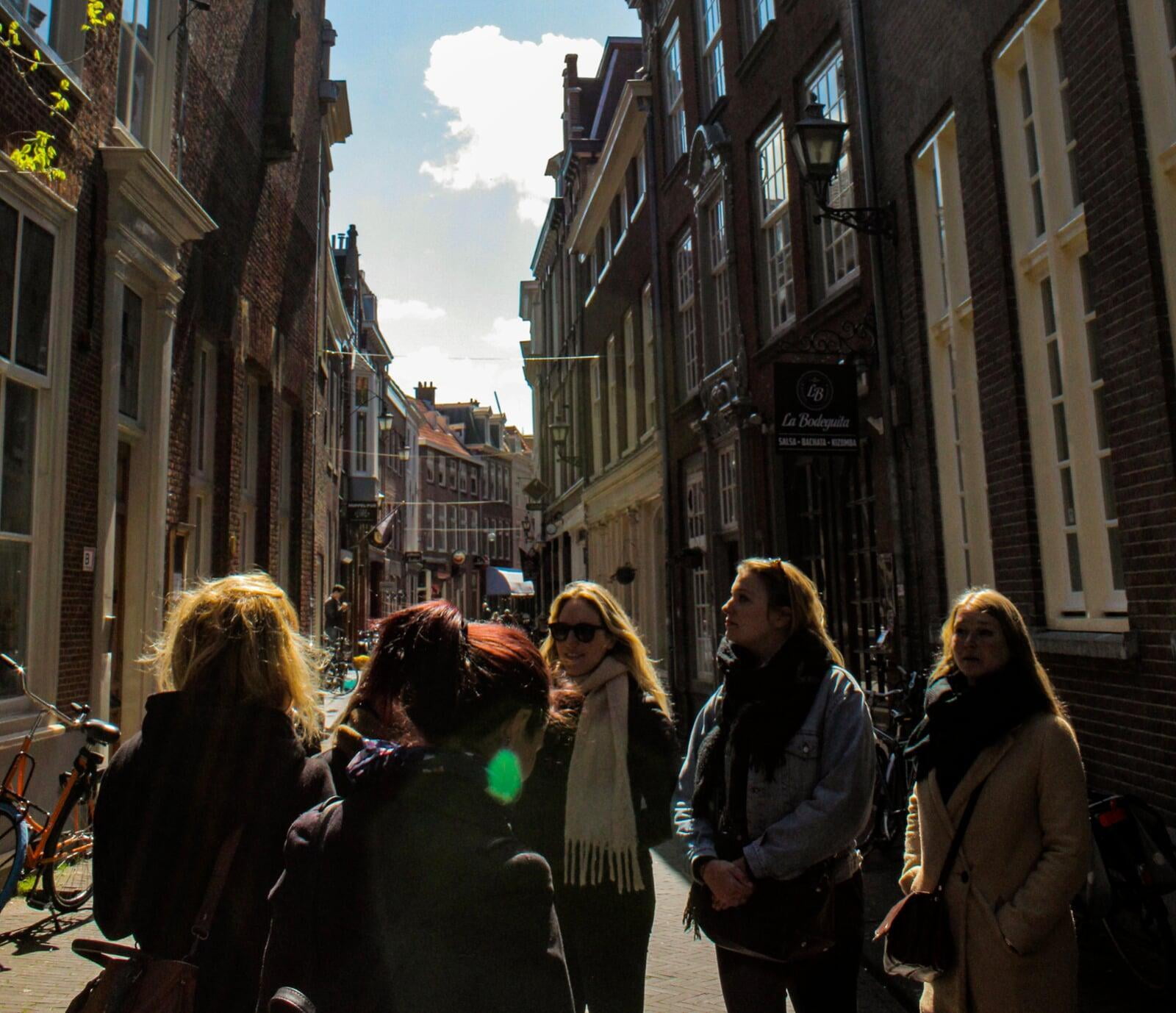 Welcome in The Hague!
We would love to take you by the hand and show you around.
Your adventures start at our hostel. Did you find everything about The Golden Stork you wanted to know or do you still have questions?
If after reading you still would like some more info, please fill out the form here!

What we offer
So you decided to come to The Hague? Where to start? Don't worry, The Golden Stork has got your back!
We made this page for backpackers who want to discover The Hague in a day a week or a weekend.
We did go the extra mile for you and visited a lot of places to discover those hidden gems in the city.
Our local staff and international guests have created a unique perspective of the city. Check out the next tabs for more information!
See you soon!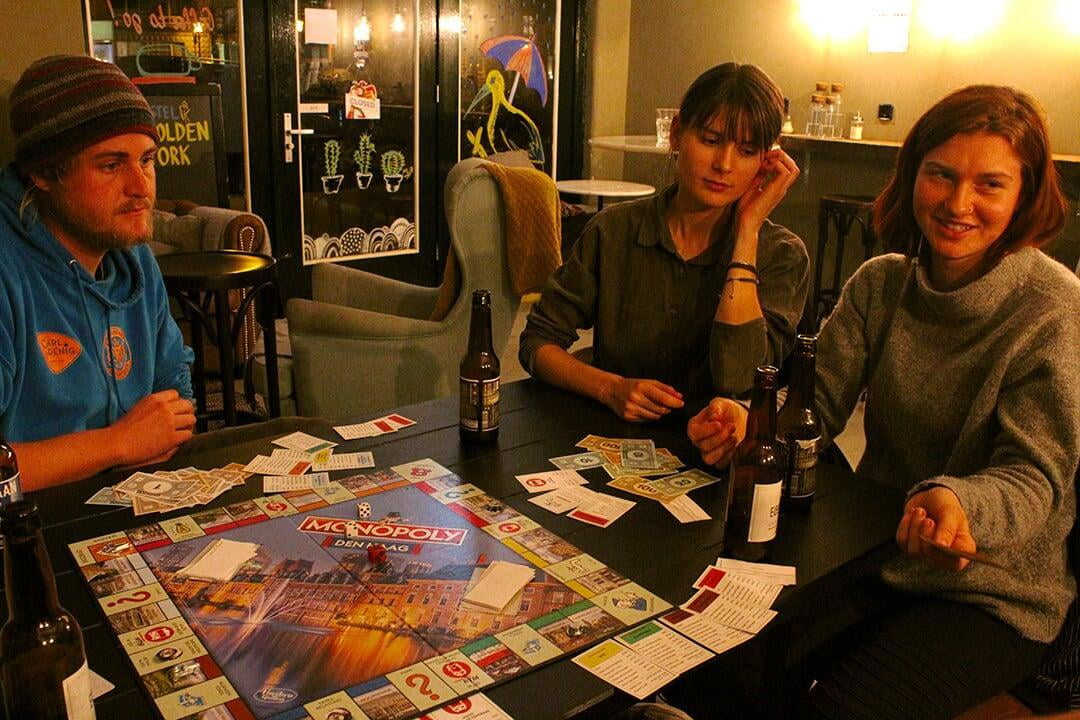 Welcome at The Golden Stork!

Besides a bed, shower and good company, what else can you expect from us? We like to keep you entertained too. Follow our Insta or Facebook for updates on what's going on every week! We have a collection of board games for you to keep you and your (new) friends entertained! Free city maps & information is available at reception and we love to show you our favorite places in town.
For 10 EUR you can join our Golden Stork Walking Tour, guided by our friend Suus. She is a local knows everything and more about the city and speaks English too! The tour goes for about one and a half hour and includes a free coffee or tea for you to take with you! Reap more about it on our Walking Tour page.
The tour starts at the hostel, on the following days:
Wednesdays 11am
Fridays 11am
Saturdays 11am.
The tour is on when there are 4 or more participants!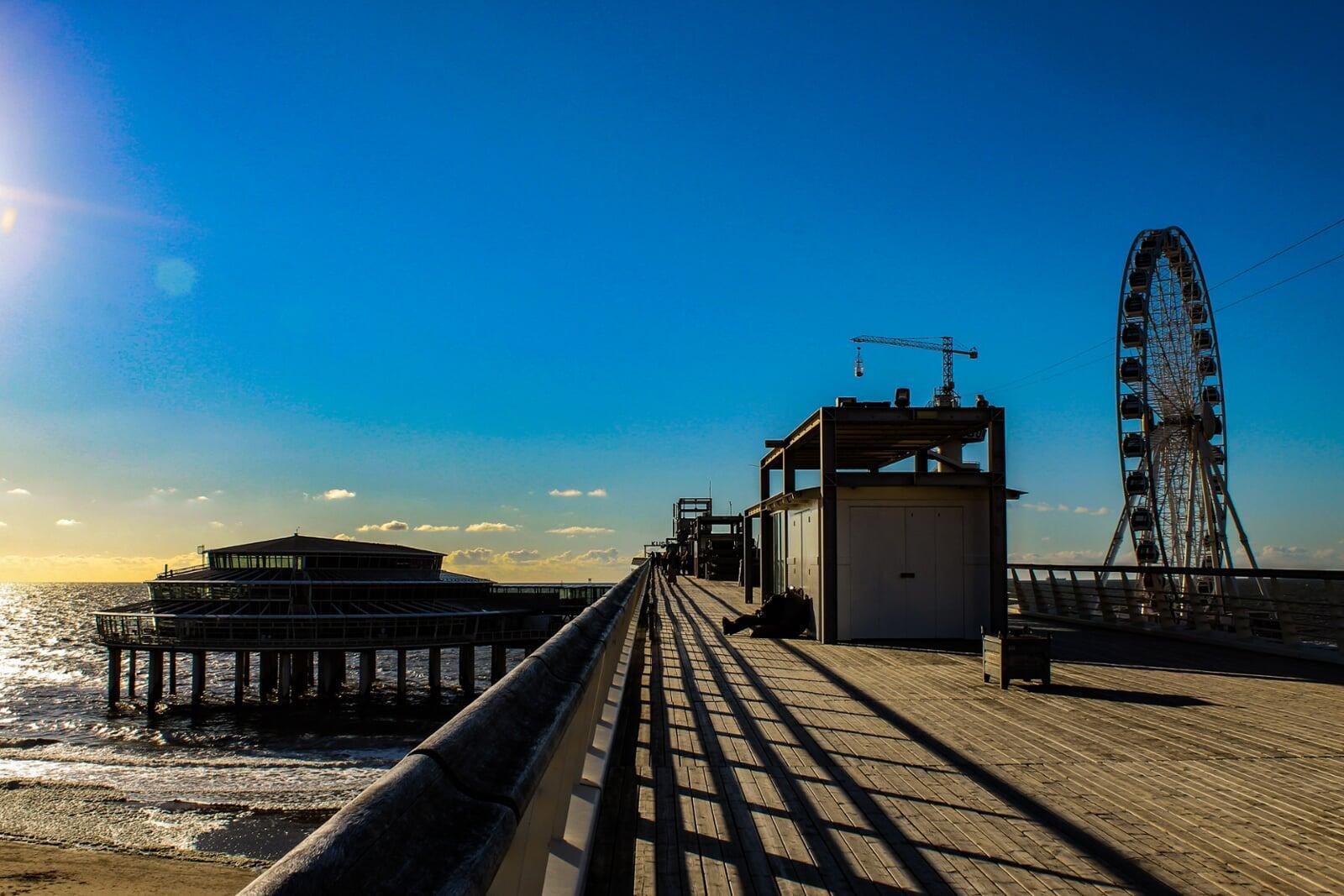 Welcome to the largest beach side of the country!

Scheveningen beach
From The Golden Stork, it is super easy to get to the beach. While it is an 8km walk there which is a bit far, the other options to get there are by bike or by tram. Choose a beautiful sunny day and get on your bike and go for a lovey ride to the beach. You cycle through a forest and its mostly on bike paths. Once at the beach, there is a board walk where you can ride the whole way along the beach. The other option is to take the tram. Right outside the hostel you can take trams 1 or 9 towards Scheveningen Noord and you get off at stop 'Kurhaus'. You can buy a ticket on board. Once there, there are heaps of beach bars and cafes to stop and have a drink or a meal, do some shopping and go for a walk out along the pier. Our North Sea is great for windsurfing, surfing and SUP'ing. Boards and gear are for hire at some of the beach bars and they offer lessons too. From the beach you can reach to the dunes and enjoy the sun if you are lucky and the sun shines. If not you can always admire the sea from the iconic pier or have a drink in one of the lots of terraces on the beach.

Haagse Bos & Malieveld
When the concrete jungle gets a little too much and you feel like you need a bit of nature, a walk through the park, chilling by the lake reading a book or even riding your bike through the trees can put a different aspect on city living.
The Haagse Bos is surrounded by a lot of trees where you can also hear the beautiful chirping birds. There are many different routes you can take while feeling the freedom of running through the forest. Amazingly, this park is only a 20 min walk from the busy city centre. There are several ponds and benches where you can have a rest or meditate.
Next to Central Station, another park called Malieveld. It has many benches where you can rest and read a book if you wish. Many festivals take place in here during the year however usually it is a very quiet place. There are deers resting in the grass and swans in the pond in the adjacent park called Koekamp.
Palace gardens
While the royal palace and it's horse stables are not open to public, the royal gardens are! The park, called Palestuinen is a very nice place to hang out with friends and play some games while the kids enjoy playing at the playground. Near by the park are some cute cafes to go for a drink or snack as well.
Further from the city center but worth mentioning is Westbroekpark. It is the best one for those who love flowers. It is very well kept park with many different kind of flowers and also ponds with animal wildlife. Close to it there is the Rosarium with a wide range of roses and interesting statues to look at. Walking through the park it seems as if you were Alice in Wonderland!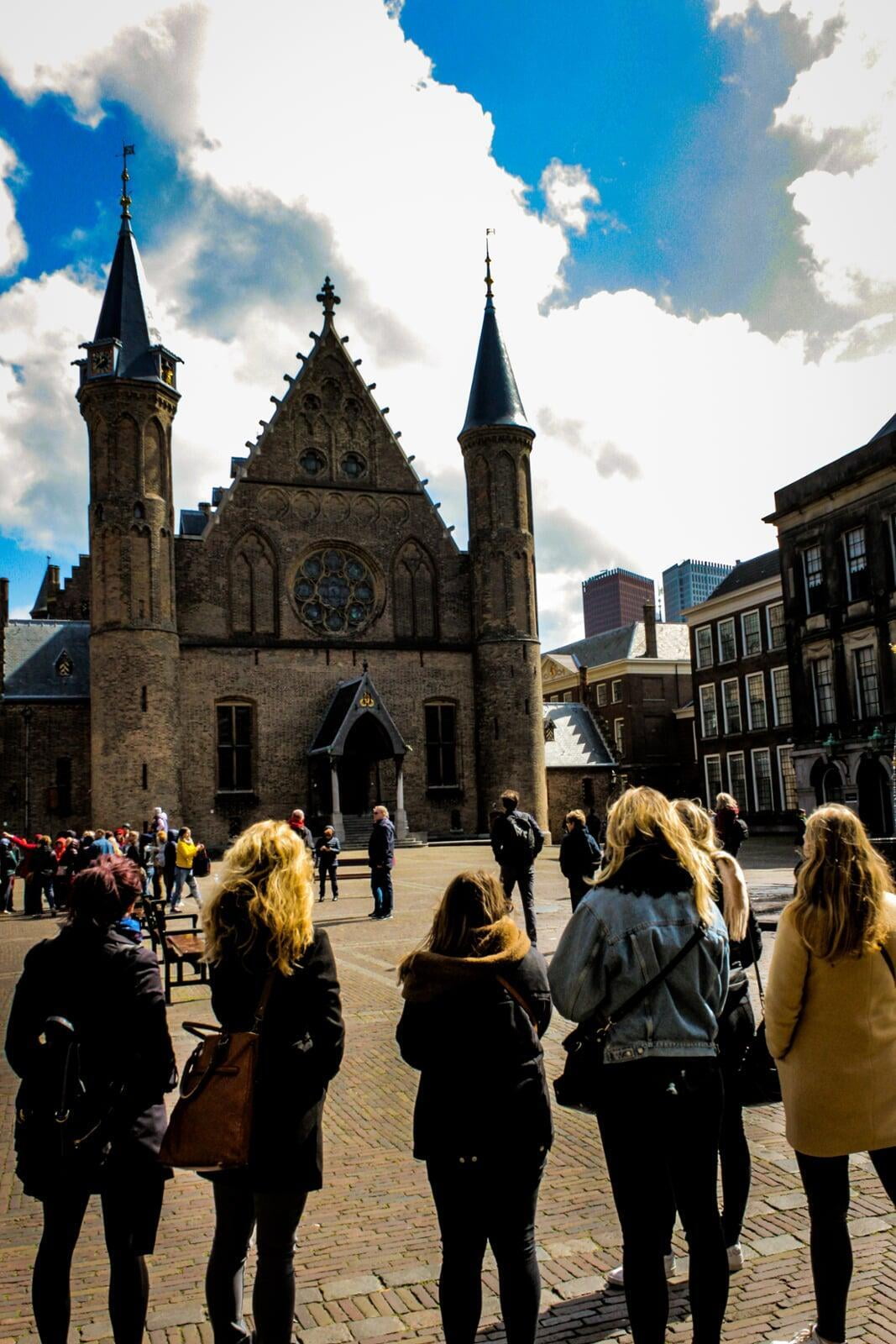 Tourist information

The 'VVV' or The Hague Info Store is a 5 minute walk from the hostel. Here you find all the information about what to do and see in The Hague. The list is almost too long to go through so here we give you a few of the coolest sights!


The Peace Palace
The Peace Place is totally unique to The Hague, it was opened in 1913 and decorated with some of the most beautiful artwork, pottery, tapestries, glass works and tile work. Between the architecture and interior its so worth seeing. It's a working palace so its closed to the public unless you take a guided tour. You can book tickets online and its 11 EUR for a 45 minute tour.
Escher museum
M.C Escher was an artist who created works that capture and confuse your mind, this museum has a large and permanent display of his works that are sure to keep you entertained for a couple of hours. Even if museums and art aren't usually your thing, this place is a must see if you ask me. Its 10 EUR for entry and an easy walk to get there from the hostel.
The Binnenhof & Parliament
Walking around this part of the city is like walking through a museum of architecture and history, the buildings themselves are interesting to look at and did you know that these buildings house the Dutch parliament? You often see our ministers 'hap' a herring at the herring cart and here's a sneaky tip: go for a coffee on a Sunday morning at the Grote Markt and you will spot our prime minister with a latte and a news paper preparing for next weeks work!
Time to visit more museums? We also have the Mauritshuis, Miniature city Madurodam, museum the Prisongate and the Lauman museum. And then there is still lots more! The Hague has some tours to offer as well, even a complete food tour! 3 times a week we host a walking tour, where our guide tells you all you need to know about the city and its sights. We will point out museums and hotspots. You can book your walking tour here!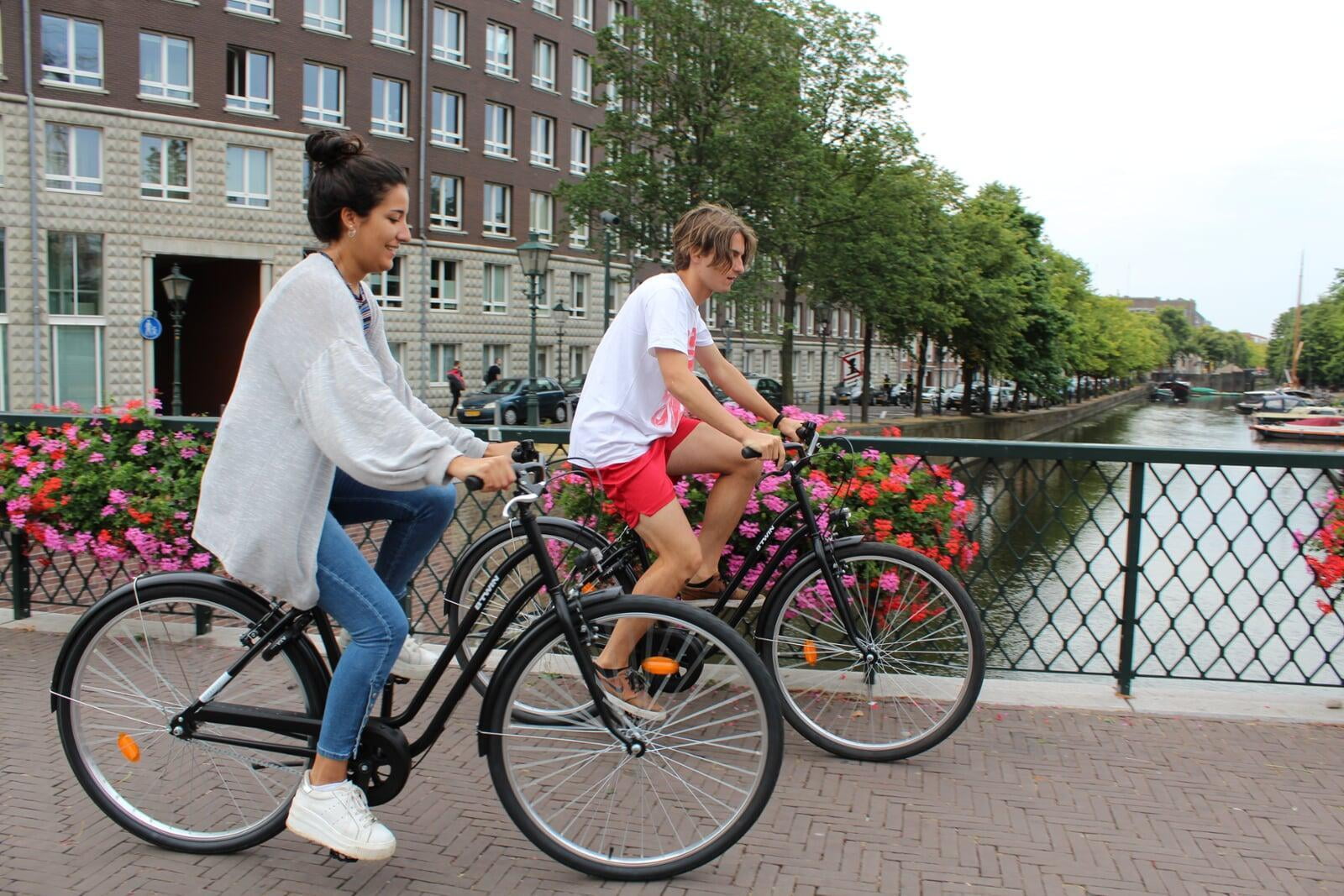 Bike like a Dutchie!
Bike rental
When in Den Haag the best way to get to know the city is by bike. without any doubt. There are different bike rental options. Our favourite is the Stadsfiets. Just next door from us you can hire the Stadsfiets for 8 EUR a day. It is even possible to hire and drop the bike off at different locations (so you could combine a bike trip with a public transport ride or boat tour). If you are planning on being in town longer, you can rent a bike from Swapfiets, starting at only 15 EUR a month. They will also make sure your bike is always in proper working order. In fact, if your bike breaks down they'll immediately swap it for another one. Easy and simple.


By boat
If you are not up for biking, the same company that rent out bikes next door, hosts the best boat tours in The Hague as well. De Ooievaart offers canal tours in English and their tour guides make sure you'll see all that The Hague has to offer, from the water.

Walking

We offer a walking tour for our guests! Our lovely friend Suus is a history teacher and in her time off she loves showing eager visitors around town. Book here or ask at reception for available dates and times.
Paid walking or cycling tours are hosted by different companies and there is even a food tour!


Public transport
Just across the road from the hostel, there is a tram stop where you can take these trams. The HTM Day Ticket (one-day card) costs 7,10 EUR. The Day Ticket is valid all day on all HTM trams and HTMbuzz buses. So you can travel around in The Hague, Delft, Zoetermeer, Leidschendam, Voorburg, Wateringen and Scheveningen. You can buy tickets in the ticket machines in the trams or at the busdriver. You can pay with coins or card. One-day tickets bought in the tram or bus are valid on the day of purchase. For 18 EUR a '3 Day The Hague Travelcard' lets you travel for three days on HTM trams and HTMbuzz buses.

By car
If you are travelling by car, we recommend checking the app or website Parkopedia. Here you can find the locations in the city where you can park, for how long and how much you need to pay. There are parking spaces along the canal across the hostel, however the maximum stay is 2 hours and this is all paid parking.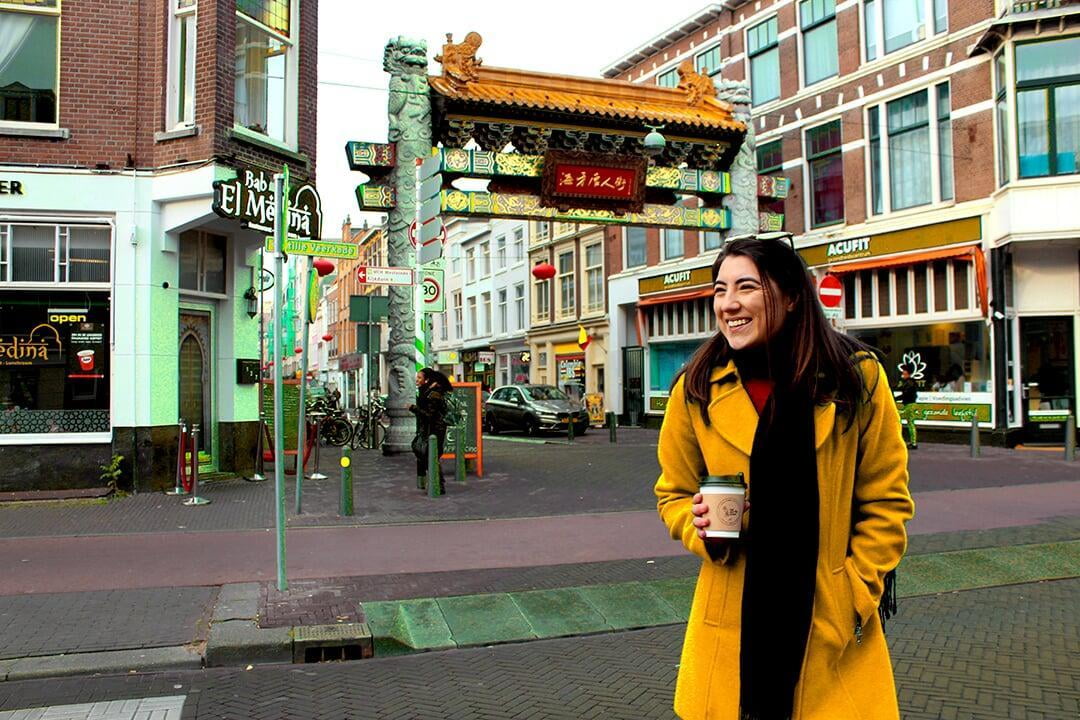 Supermarkets, take out, restaurants..

As we don't have a kitchen in the hostel, you will have to rely on take away, one minute noodles (we have hot water for you or we can heat up something in the microwave) or eating out! have nice drinks and sell a nice breakfast for 4,50 EUR.
The Albert Heijn is the most seen super market around here. There is one in the big shopping street and one near the train station. There are a few corner stores for your late night groceries. There are few healthy stores where you can purchase your groceries and eat high quality organic food. Ekoplaza is is full of an amazing variety of freshnest veggies and fruits and it has a wide range of vegetarian and vegan products. A few steps further, right in the middle of the city center, there is Marqt. A similar store with less variety but still with high quality organic food.
A bit further of the center on Denneweg 126B street, Madal Bal is another healthy food store with ready meals to go as an option. It is the smallest of all but very complete. In it you can also find a great selection of books. Food for your brain and soul is essential to keep yourself healthy.
Haagse Markt
Now this place is a local experience, you can find most things at this market, clothes, candy, cheese, seafood and even fabrics, but the best reason to go is to get some really tasty and cheap fruit and vegetables. Take a couple of reusable bags with you and fill them with goodies, if you've bought too much you can catch the tram back so its very convenient.

Now for the restaurants
Our favorite spot for eating out? The Grote Markt! This spot is only just around the corner from the hostel, it's a beautiful square with lots of cafes and bars. It's a great spot to try loads of different beers form around Europe and also from the local breweries around The Hague while having a nice meal. There are heaps more, but here some of the ones we have tested for you!


Momiji (Rabbijn Maarsenplein 1, 2512)
Located just a couple of blocks from The Golden Stork and next to the main shopping street in The Hague, Momiji is the kind of place you have to visit if you feel like trying Japanese food such as ramen. It started as a small sushi place almost twelve years ago and became bigger and bigger over the years. Today, it is a 'must visit' for lots of tourists and locals in The Hague. Why? Maybe it is because it guarantees you will have an amazing Japanese taste experience that is totally worth the money. One of the most popular dishes in their place is ramen and they offer it with three types of meat (beef, pork or chicken) mixed with vegetables and spices. The most expensive dish is about 20 EUR but most of the ones in the menu are far less than that, not to mention how abundant they actually are.
Dungelmann (Hoogstraat 34, 2513 AS)
Just a few blocks beyond the Passage and located in the middle of exclusive clothes shops, you will find a pretty vintage shop showing a huge variety of homemade ready made meals for your lunch, dinner or any special ocassion. Dungelmann is widely known for being a top quality food store where you can find the most typical Dutch dishes and some exotic options you might want to try as well. Besides the excellent quality of their food, the prices are super alright. Totally recommended if you are into home made food.
Bakker Bart (Vlamingstraat 12, 2511 BB)
If you are in the middle of a shopping day in the city centre in The Hague and feel like sitting in a nice place and trying some delicious home made bakery, sandwiches or pizza, Bakker Bart is the place. Besides enjoying the friendly atmosphere and taking a look at the beautiful design of this well located coffee shop, you will save a couple of euros while eating high quality pies, doughs, paninis and more, accompanied by a great coffee and a wide variety of hot teas they have. It is a great stop when you are walking down towards the Grote Markt. Stop by for a delicious breakfast and enjoy good quality pastry for little money, a fresh fully filled panini for a quick lunch or a hot coffee to make your day even better.

Besides sushi and bakeries (clear favorites) we of course have tested more restaurants and cafes for you! We are working on uploading these blog posts so stay tuned for more!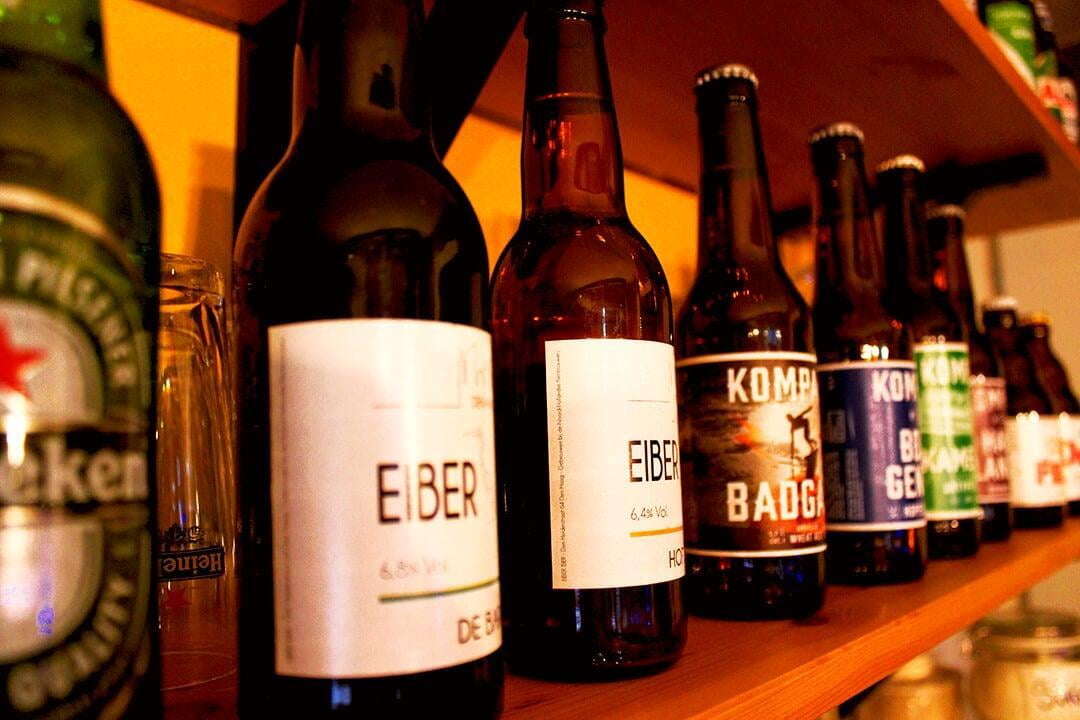 Beers, bars and more


As we sell famous beers from two local breweries, we suggest you start your night out at our bar and have a taste!
Heading down the street, you'll find bierspeciaal cafe The Paas who have around 200 different local and international beers. Sitting along the canal enjoying a craft beer and talk to the locals: that's quite The Hague!
A 10 min walk from there you'll find the Grote Markt. Cafes and restaurants offer nice drinks and food and everybody in town uses this spot to meet up with their friends.
Down towards and passed the church, there are some little streets with a lot of well known cafes. The Paap is where most of the national artists had their first gig. Next door our friends at the Hoppzak offer even more Dutch craft beers and often live music too! Passed the Parliament buildings and towards the train station Het Plein is another big square full of restaurants, bars and music.


Back to a 5 min walk from the hostel towards Hollands Spoor trainstation, are the The Hague Tower and Penthouse restaurant for panoramic views of The Hague, Delft, Rotterdam (on a clear day) and all the way out the beach. Spending an hour or so just watching the world go by from 47 floors up is a really great experience and fun way to see how big this city really is. Its 9 EUR to go up but you get a drink of your choice once up the top.
And of course there is a lot more, ask our staff for their favorites!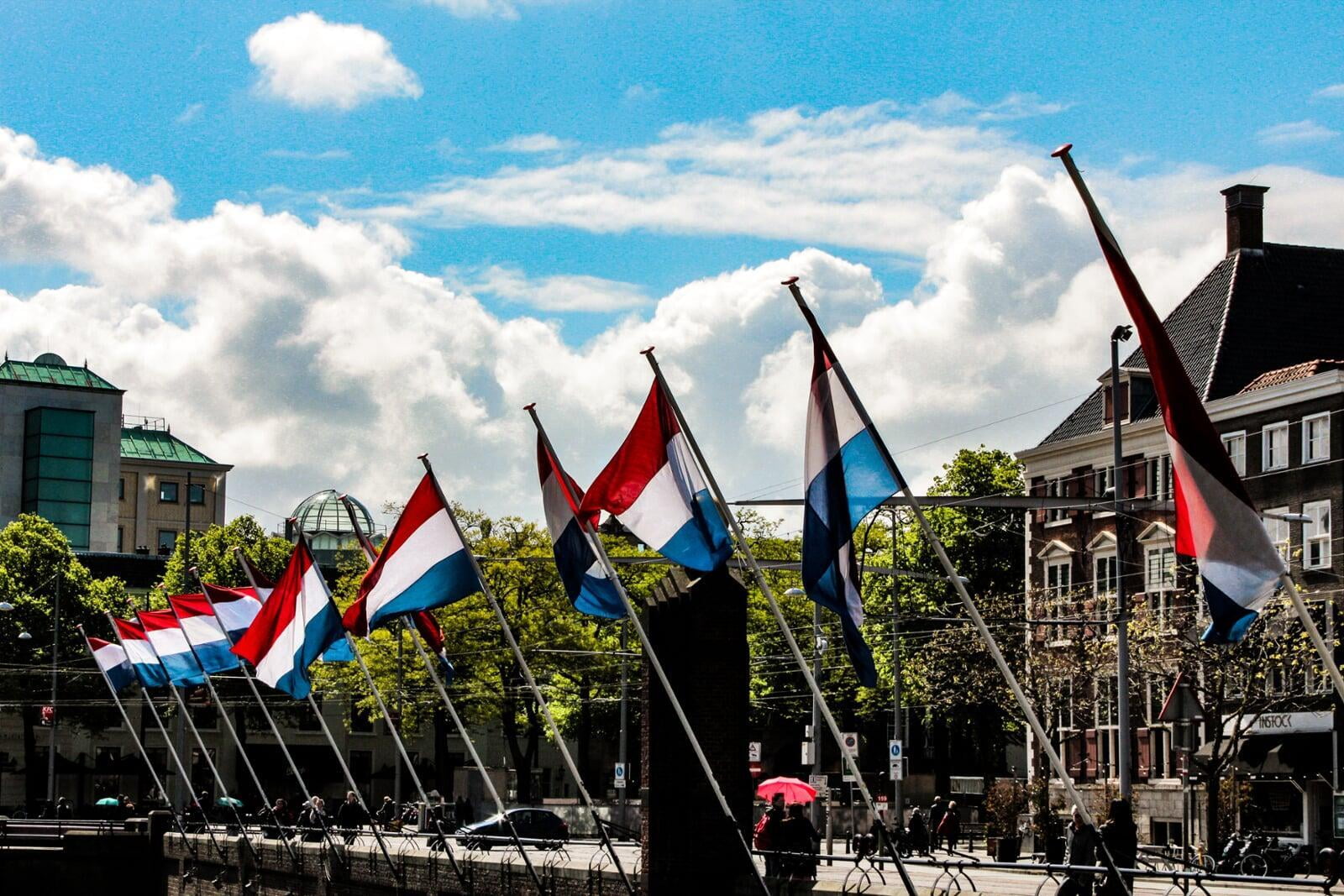 The Hague is one of the most famous cities of our country!

The Dutch Parliament is housed here, the royals live here and we are thé city of Peace and Justice. Have you seen everything you wanted to see in The Hague? The rest of The Netherlands has a lot to offer too, and the good thing is: we are only a small country so you'll be in another city in no time!

We are working on out own map where we point out what our staff ánd guests recommend you to go and visit. By locals and backpackers, for locals and backpackers! Stay tuned! (You can always ask our staff for tips when you are in the hostel too.)